Semmering Hirschenkogel
This ski resort really impresses! Enjoy unique floodlit skiing at night, the 3 km long natural sled run and many other highlights.
Semmering Hirschenkogel is perfect if you can never get enough of skiing, snowboarding and sledding. Here you can keep whizzing down the slopes long after 6 p.m. and return well-illuminated to the valley and a cozy evening at an alpine lodge.
After-work skiing and sledding
This wonderful ski resort at 1350 m above sea level is readily accessible by train and delights kids, racers and snowboarders alike. And it continues doing so even after 6 p.m. That is when the floodlights go on, illuminating the entire ski resort in a nightly radiance. Those interested in finding out the total meters in altitude and the downhill km they covered should check out the "Skiline." They just need to enter their ski pass number and the program automatically calculates all the relevant data.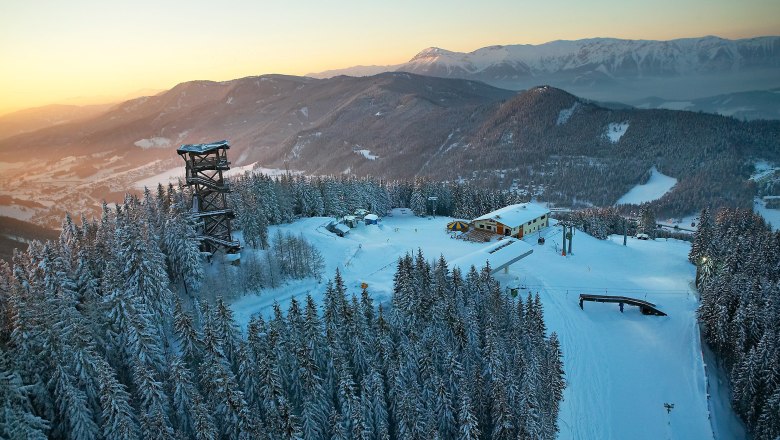 World Cup conditions for everyone!
Besides the 14 snow-covered km of slopes and the thrills of the Split Fun Park, visitors young and old are especially keen on the popular World Cup run. It is no wonder that Semmering is also known as Magic Mountain.
Beyond the slopes
Lower Austria's longest natural sledding run – an incredible 3 km long – opens up a whole new dimension of downhill fun for sledding fans. This is especially true if they are sledding at night, because like the slope, this diverse sled run is also illuminated.
NEW: If you fancy gondola rides de luxe, you can reserve a VIP gondola including champagne and a menu at the Lichtensteinhaus for one evening. Click here for the luxury mountain ride.