Snowshoe hiking
On snowshoes, you can go through snowy forests and into the winter sunshine on the mountains of Lower Austria.
Tranquil endurance training: Older than two thousand years, snowshoeing has since been rediscovered - as a trendy sport for young and old. Today, winter fans of all fitness levels indulge in fitness sports, in calming, crisp snow.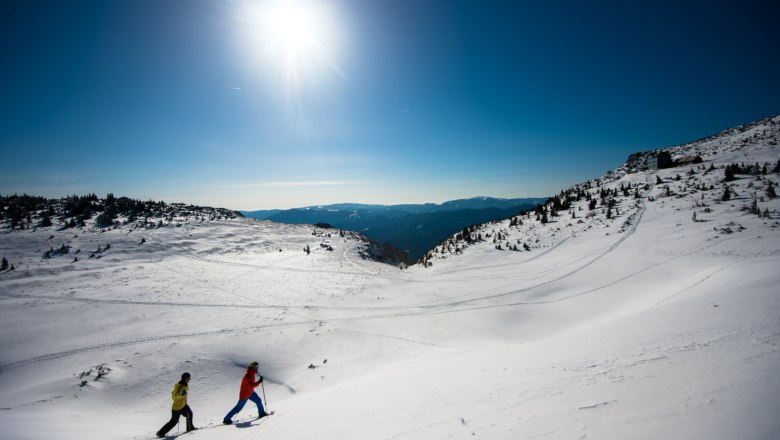 Trudge over snow-covered mountains in snowshoes. In the midst of white glittering hills, let your thoughts run free. And get your circulation going under ice-blue skies: Sport and nature fans of all fitness levels and ages can rediscover the age-old snowshoe hike - independently or in guided tours. The "shoes" themselves can be borrowed from many hire companies.
Winter hiking in the Viennese Alps
The Rax Plateau in the Viennese Alps in Lower Austria can be explored on snowshoes. Beginners of all ages can quickly find out how effortless and relaxing this gentle endurance training is on professionally guided snowshoe hikes. A plateau tour, lasting for nearly 11 km, leads from the mountain station past the Praterstern-signpost to the 1,642 meter high hut Ottohaus and on to the next hut Neuen Seehütte. Time and again, you will be rewarded on the way with a magnificent view of the Schneeberg. Snowshoe rental, with modern models, is available at the restaurant Berggasthof next to the cable car station. If you are looking for additional action, you can rent a full suspension skibike at the Berggasthof. RuckXbob tours offer at least as much thrill: After a snowshoe hike through the idyllic winter landscape, you can go downhill again with the ruckXbob - a combination of backpack and sledge.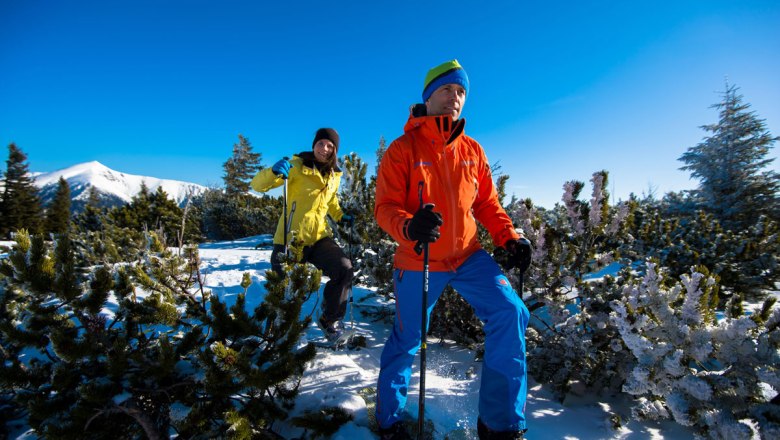 Snowshoeing through the snowy Mostviertel
In St. Aegyd am Neuwalde in the Mostviertel, outdoor expert Christa Strametz from the nordic sports academy leads hikes through the idyllic terrain between Gippel and Göller - sometimes even in the moonlight. Snowshoes can be rented. The signposted Kesselgraben-showshoe tour in Lackenhof am Ötscher leads from the village centre, over the Kesselgraben, to the Mandlboden hut in a 3.6 kilometre circular route. After a short refreshment break, we continue via the forest chapel to the starting point on the Teichwiese. The Eibenkogelstrecke starts on the Teichwiese and continues for about 1.5 kilometres via the Belling up to the mountain station. Here, the Eibenhütte hut offers itself as a rest stop. On Hochkogelberg near Randegg, a tour leads up to the ridge in the Sonnleitn. The trails around the mountain are suitable for both families and winter sports enthusiasts. Snowshoe hire is available at the restaurant Panoramastüberl.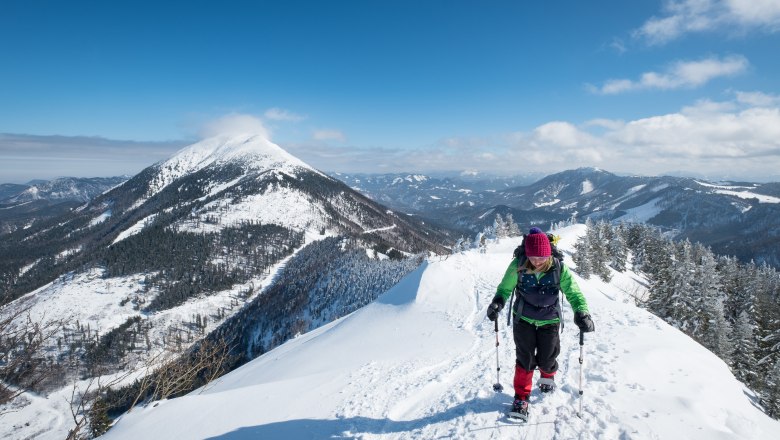 Pure nature and relaxation in the Waldviertel
Exploring nature on snowshoe hike in the Waldviertel and enjoying the tranquillity means pure relaxation. Perfect silence ... only the soft crunching of the snow accompanies you through the snow-covered winter landscape. Hikes in Bärnkopf and Langschlag are offered, tailored to your personal knowledge of hiking and fitness level - also suitable for children!