Fresh kicks at Ybbs and Erlauf
It is worth getting off your bike at these 10 places along the Ybbstal and Erlauftal cycle paths.
A rolling stone gathers no moss - this is true in many areas. Nevertheless: a nice break is good for body and mind. The rest stops by the water are especially welcome in the warm season. Some are located on riverbanks and are small and fine; others are located at bathing lakes and offer plenty of space on sunbathing lawns to lie around, look around and doze off. Oh yes, there is also a gorge!
#1 Blindenmarkt Auseen
No fewer than three bathing lakes with excellent water quality invite you to linger and rest in Blindenmarkt. It's no coincidence that the recreation area is a popular destination. You can smash a few balls on the beach volleyball court. The table tennis table is a little calmer, and then there's the nearby tennis club. And there's plenty to eat, too. At the table or at the bar, just as you like.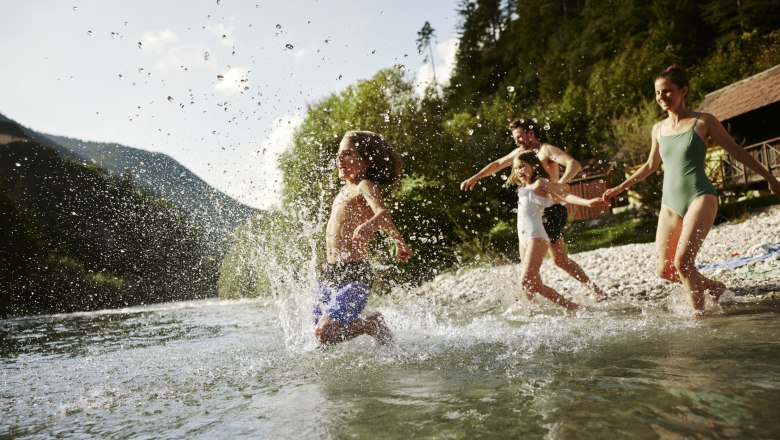 #2 Allhartsberg Nature Bath
Surrounded by lush greenery, the freely accessible natural swimming pool Allhartsberg is located in a former oxbow lake of the Ybbs. Here, tired cyclists can cool off - and more. There are also spacious sunbathing areas, a beach volleyball court and shower facilities. And then there is the "raft ferry". It connects the natural swimming pool in Allhartsberg with the one in Kematen on the other bank of the Ybbs.
#3 Kematen natural swimming pool
The Haidhofwald in Kematen is a wonderful recreational area, which is proven, among other things, by the natural swimming pool located there. It blends into the landscape of the banks of the Ybbs and comes across as particularly modern, for example with the water playground that won an award from the province of Lower Austria. The popular "raft ferry" takes you to the other bank of the Ybbs, where the Allhartsberg natural swimming pool is located.
#4 Schwarzbach area in Waidhofen
In the middle of Waidhofen an der Ybbs, near Rothschild Castle, where the Schwarzbach flows into the Ybbs, lies the Schwarzbach area. A popular place with lots of greenery for hot summer days, frequented not only by passing cyclists but also locals.
#5 Ochsenloch natural bathing spot
The "Ochsenloch" in Opponitz is located on a prominent rock where there is a freely accessible, spacious bathing beach. The Ybbs has a pleasant river depth here that is ideal for swimming - as long as you can still make your legs move! Of course, you can also just cool them down briefly and then throw a few sausages on the grill at the nearby barbecue area. Add a cool drink on the beach, take a deep breath, and you're done!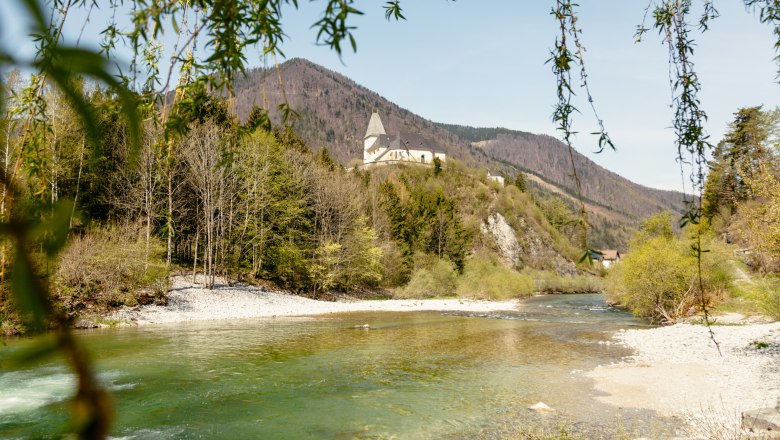 #6 Hollenstein an der Ybbs river lido
The Hollenstein lido on the crystal-clear Ybbs is a place like something out of a picture book, whose title could be "A summer like back then". Both non-swimmers and water rats can let off steam, as a bottom belt divides the pool into two sections. You can stand in the first section, while the second is 2.5 metres deep and therefore ideal for all sporty long-distance swimmers. On land, a round of table tennis, a game of outdoor chess or even a small barbecue are all options.
#7 Flussbad an der Ybbs, Göstling
The mountain water glistens crystal clear in the Göstlinger Flussbad in the Dr. Steppan Park directly on the Ybbstal cycle path. Cooling down is guaranteed here, since water temperatures above 20 degrees are extremely rare. Those who want to rest in the shade after the freshness kick will find a cosy spot in the park hut - and a small bistro.
#8 Lunzer See Lake
The only natural lake in Lower Austria is surrounded by the Mostviertel mountains. Of course, you can swim your lengths there, but not only that. If you want to keep challenging your calves, choose the pedalo, and if you're more interested in exercising your biceps, hire a rowing boat. And if you want peace and quiet... electric boat! Stand-up paddling would also be an option. Or just do nothing at all and check out nature. It is particularly impressive there.
#9 Erlauf Gorge Purgstall
It has officially been a natural monument since 1972 and has always been worth a detour: the Erlauf Gorge in Purgstall, where the Erlauf River flows up to ten(!) metres deep. At the water spots and on two viewing platforms, the elemental force of the water that has been flowing through here for - indeed - millennia becomes tangible.