Best-of History in the Waldviertel
Being picturesque? The forest area (Waldviertel) can do more! With the best-of of the historical places, we shed light on the often unexplored fare of the Waldviertel.
TheWaldviertel and the bordering regions of the neighbouring Czech Republic are teeming with stunning and historic places. Many breathtaking and remarkable historical sites, some of which are well over 100 years old, are waiting to be discovered by amateur historians, adventurers and history buffs.
When we look at history, it does something to us. It helps us understand how certain events in the past made things what they are today. With the lessons of the past, we not only learn something about ourselves, but also develop the ability to create better perspectives for our society and ourselves. In our best-of of historical places, we leave no ruin unexplored, no baroque façade untouched and no labyrinth undisturbed. And we do this easily and relaxed by bike. We hope you enjoy exploring our 10 most historic places along the Iron Curtain Trail.
#1 Gmünd
The former Kuenringer city of Gmünd presents itself to its visitors in an extremely exciting way. From the town square, which is entirely listed, you can enjoy a wonderful view of the unique sgraffito houses and stroll and linger in the beautiful ambience. Not uninteresting from a historical point of view either - until 1989, the Iron Curtain divided the two towns of Gmünd and České Velenice. Gmünd was a divided city, much like Berlin. Only that between Gmünd and České Velenice there was no wall, but a barbed wire fence and watchtowers.
#2 Traditional craftsmanship: Glass art village in Berg Nagelberg
A centuries-old tradition is associated with the market town of Brand-Nagelberg and its glass production and refinement. Here, in an almost untouched natural landscape, you can witness how glass makes its way from the fire to the finished product. In Berg Nagelberg you will also find the only glass place-name signs in Austria! This and a very idiosyncratic local lighting reflect the philosophy of the community as a glass art village.
#3 Litschau
Recharge your batteries and take a deep breath: as a designated climatic health resort, Litschau invites you to a healthy Waldviertel holiday. Austria's northernmost town lies in the Reißbach Valley - just a stone's throw from the Czech border. With the tranquil Herrensee lake and the Schönau pond, excursionists will find an idyll of meadows, forest and water. Litschau's landmark, Litschau Castle, towers imposingly and stoically on a rock.
#4 Slavonice
Definitely a hot spot for history buffs, you can visit fully equipped bunkers in Slavonice. The beautiful Renaissance houses in the old town of Slavonice look like fine lace carved in precious stone. The picturesque town is one of the most beautiful in the country. But Slavonice is not only a jewel above ground. The city also has a mysterious underworld to offer. So immerse yourself in the adventures of Slavonice's Hades and explore a labyrinth of corridors, the oldest of which are over 700 years old.
#5 Iron Curtain Open Air Museum in Kadolec (CZ)
A visit to the Iron Curtain Open Air Museum in Kadolec certainly accomplishes one thing - fulfilling its cultural mission. The exhibition, which has been in existence since 2012, provides a variety of insights into the topic: everything from the Cold War and its ideologies to the division of Europe. An absolute hotspot if you are looking for clues behind and in front of the Iron Curtain.
#6 Drosendorf
Another must-see is the enchanting medieval town of Drosendorf in the Waldviertel. And here one thing in particular is written in capital letters - History! Surrounded by peaceful forests and a diverse river landscape, the town sits enthroned on a high rocky spur. Thus, it is the only Austrian town that is surrounded by a completely preserved city wall. In addition, baroque façades and old town houses adorn the main square, offering a truly Elysian sight that is otherwise only seen in films. In themiddle of the park, you will also find St. Martin's Church and next to it a fingerprint of secular power - the pillory.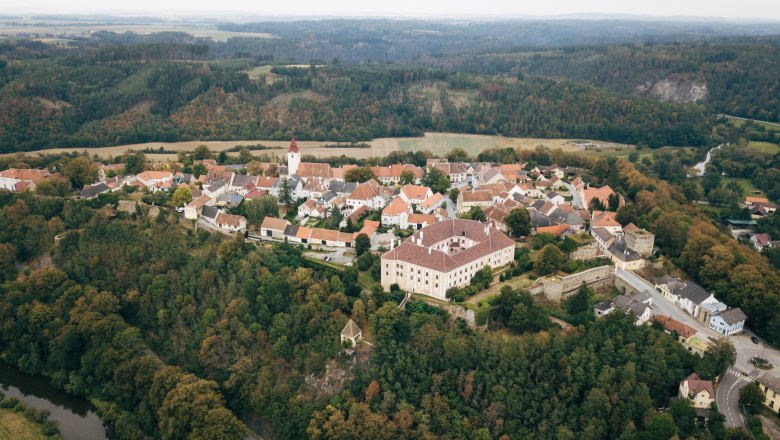 #7 Uheriče (CZ)
Head from Drosendorf to Uheriče in southern Moravia, 10 kilometres away. In the Czech community of 400 souls, you can then visit the local castle and its resident women's prison, which is no longer intact. A stroll through the English baroque garden followed by a stop at the palace restaurant is a more pleasant way to spend the day. Also not uninteresting is Uheriče Castle, with its extraordinary architecture. It is one of the most important architectural monuments in the Czech Republic and is also home to an extremely rare species of bat.
#8 Langau leisure centre, with mine lake
Langau in the Waldviertel should be renamed Langau in the leisure district - exciting sights, elysian cycling and hiking trails and a mining lake even wonderfully drawn by nature. This promises the perfect holiday! On top of that, there is even an entire museum dedicated to the theme of leisure. For all hungry people: The Reblaus Express shuttles as a special culinary train between Retz and Drosendorf and also makes a stop in Langau. The train is equipped with a Heurigen wagon, which provides its guests with food and drink. Good to know: You can take your bike with you free of charge.
#9 Remains of the Iron Curtain in Čížov (CZ)
From Hardegg, head north across the renovated border bridge through the Thayatal National Park to the Čížov Visitor Centre - a well-preserved piece of the Iron Curtain included. From here it is only a short distance to the royal city and wine metropolis of Znojmo. Via the Thayatal National Park, you can reach the visitor centre in Čížov, where next to a watchtower there are several metres of the original barbed-wire fence, from a time that you can imagine through this memorial.
#10 Šatov tank barrier (CZ)
Šatov is a minority town in the Czech Republic. A minority town is a place with limited town rights. But nothing is restricted in the remarkable little town today: beautiful alleys with ornate cellars, a bunker behind the town - and even this shelter, built in 1938 and now perfectly restored, is bathed in colour. You can feel the tendency towards colourfulness everywhere in Šatov,when you cheerfully stroll among all the sights.