Trinity of the Vienna Woods: Monasteries, Emperors, Artists
Fit on the bike and inspired during the breaks - we have a best-of nature and culture for you!
Why has the Vienna Woods been the seat of emperors, noble houses and monasteries for hundreds of years and a magnet for countless artists? The answer lies in the path through this inspiringly pristine nature, in which you stop again and again in amazement.
Let's face it - immersing yourself in a landscape that seems almost kitschy, that's what the heart thirsts for! Yes, here you want to take your time at the cycling stops. Time to soak up the extraordinary biodiversity in the deciduous forest of the Biosphere Reserve or listen to the Gregorian chant at Heiligenkreuz Abbey. Time to immerse yourself in imperial flair at Laxenburg Palace or to trace the Biedermeier lifestyle in Hinterbrühl. In between, on the almost 60-kilometre-long Monastery Emperor Artist Tour, you pass a sun-drenched landscape of meadows, smell the umbrella pines of the Föhrenberg Nature Park and listen to the murmur of the Schwechat River. Oh heart, what more do you want?!
#1 Imperial City of Baden
Emperor Claudius (41-54 AD) already knew about the important role of the healing springs and named the settlement "Aquae" ("Bäder" in German). A good 1800 years later, Emperor Franz II (I) chose Baden as his annual summer residence and it soon became an important spa resort for the upper classes. Baden has been a UNESCO World Heritage Site "Great Spa Towns of Europe" since 2021. There is also a rich cultural and culinary offer to make it an imperial place to live.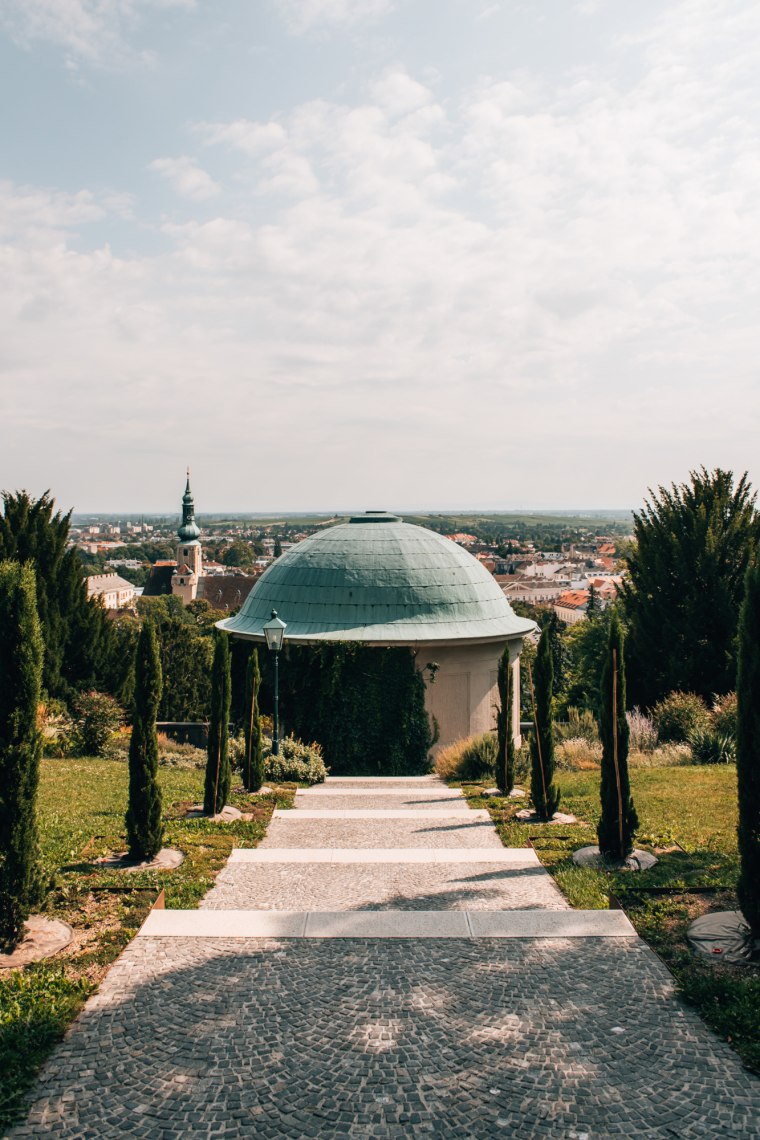 #2 Arnulf Rainer Museum
Born in Baden in 1929, the artist Arnulf Rainer achieved international fame primarily for his overpaintings. So it is only fitting that the museum dedicated to him has found a home in the former women's baths. Designed in 1821 by Charles de Moreau in the French classicist style, the building was technically and above all aesthetically adapted to the needs of a contemporary museum in 2009 (although it was not painted over) and is well worth seeing, both inside and out!
#3 La Gacilly Baden Photo Exhibition
La Gacilly is a town in Brittany, France, where the largest outdoor photography festival in Europe takes place every year. Yes, and what does that have to do with Baden bei Wien, you may ask. It's simple. The show will also be shown in Baden in the respective following year. Around 2,000 large-format paintings by international artists can be admired on the approximately 7-kilometre-long festival route in squares, streets, courtyards and parks. And from June to October with free admission!
#4 Beethovenhaus: modern listening laboratory
the Beethoven House is also popularly known as the "House of the Ninth". The largest part of Ludwig van Beethoven's most famous work - the Ninth Symphony - is said to have been written here. And in addition to many interesting exhibits, it is above all the newly integrated listening laboratory that gives visitors an impressive idea of how Beethoven might still have heard his music. In addition, the phenomenon of sound can be explored there in a very special way.
#5 Poetic Moments in the Helenental
It remains to be seen whether the Helental cycle path is meant by the song "Ich kenn ein kleines Wegerl im Helenental" (sung by Peter Alexander, among others!). One thing is certain - on the Monasteries Emperors Artists Tour, this and that path leads through a wonderfully unspoilt landscape that will certainly conjure up a song on your lips. The day will be a jolly one if you take a break with a view of one of the castle ruins, visit Heiligenkreuz Abbey, stop off at the Augustinerhütte or Krainerhütte or simply dip your hot cyclists' feet in the cooling Schwechat.
#6 Carmel Mayerling
So this is where it took place: The historic event of 30 January 1889, when Crown Prince Rudolf and his mistress Mary Freiin Vetsera met their deaths. Whether murder or suicide was involved is still a matter of debate today. In order to put them to rest, Emperor Franz Josef had the former hunting lodge converted into a Carmelite convent. You can visit it, including the desecrated coffin of Mary Vetsera, under the guidance of the nuns themselves.
#7 Chartstürmer at Heiligenkreuz Abbey
"Ora et labora" - "Pray and work" - has been the motto of the monks of the Cistercian Abbey of Heiligenkreuz for almost 900 years. The fact that the "Ora" is particularly popular here in the form of Gregorian chant is known to the brothers at the latest since they made it into the pop charts worldwide with their chants. However, it is worth listening to this emotional form of prayer live on site and then still listening to the sounds in the Romanesque-Gothic cloister.
#8 Hinterbrühl
At the well in front of the gate/ There stands a lime tree/ I dream in its shade/ Many a sweet dream. According to legend, the origin of this probably most famous song by Franz Schubert can be found in the Höldrichsmühle in Hinterbrühl. And this place also exerted a special attraction on painters and composers. Even Richard Wagner, Ferdinand Georg Waldmüller and Ferdinand Raimund knew about the surrounding natural beauty such as the lake grotto or the impressive giant trees.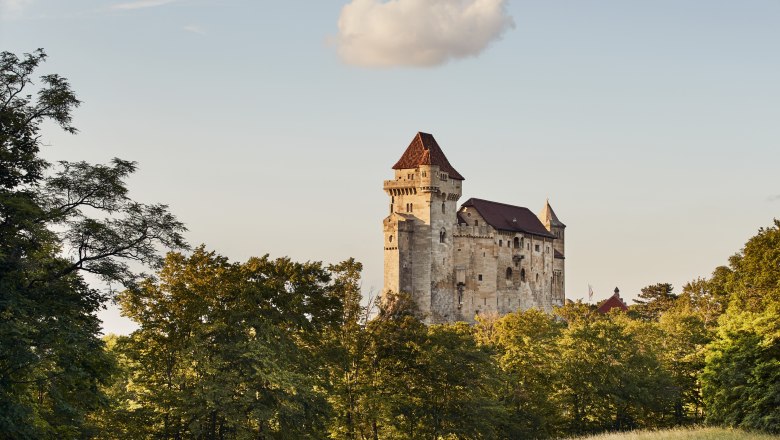 #9 Liechtenstein Landscape Park - Liechtenstein Castle
Yes, it's a bit of a diversion. And yes, you have to let the wheel be the wheel for a moment. Because the amphitheatre, Diana Temple, Roman Wall and a whole list of other buildings inspired by antiquity can only be explored on foot in the Liechtenstein Landscape Park. As was customary at the beginning of the 19th century, Johann I von und zu Liechtenstein laid out a park here, which, with its artificial ruins and castle replicas, seems almost fairytale-like. Liechtenstein Castle itself, however, with its almost 900 years, is still largely true to the original and absolutely worth a visit! And if you prefer to stay on your bike, you can also catch the most beautiful view of the castle shortly after Mödling before the thermal cycle path.
#10 Laxenburg Palace
How to live out your romance when you are emperor and at the same time exhort the greatness and long history of your own dynasty? You just build yourself a knight's castle! This is what happened more than 200 years ago under Emperor Franz. In the middle of an idyllic castle pond in a park dotted with romantic pavilions, he had a "garden house in the shape of a gothic castle vestige" built. So it's best to get off your bike for a short while and take an imperial stroll, take a boat trip and admire the art-historically valuable components and treasures from castles and monasteries gathered from all over the empire.