Tobogganing
Not for slow-pokes: Speed junkies are flying down these toboggan runs, by day and sometimes even by night.
If you want to go all the way down, you have to go all the way up. This is usually easy on Lower Austria's toboggan runs, where you can comfortably climb the mountain using the conveyor belts. And then, after some food and drink, it's downhill again, while the track shines in the floodlight.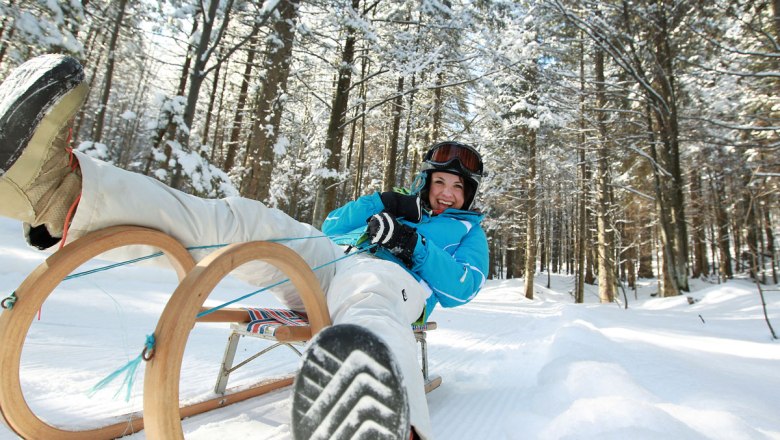 For relaxed, nature tobogganers: The snowy Mostviertel
In the idyllic Mostviertel, there are breathtaking natural toboggan runs, which become the unforgettable highlight of your holiday. In Annaberg, for example, there are several of these toboggan runs for some great outdoor fun. A special treat for toboggan fans: Floodlit tobogganing every Saturday next to the conveyor belt at Reidl. Two thrilling natural toboggan runs with a length of 300 and 400 metres in Loich im Pielachtal. In the stylishly renovated Dörrhäusl of the Fink family, the Kletzen-Stüberl awaits visitors.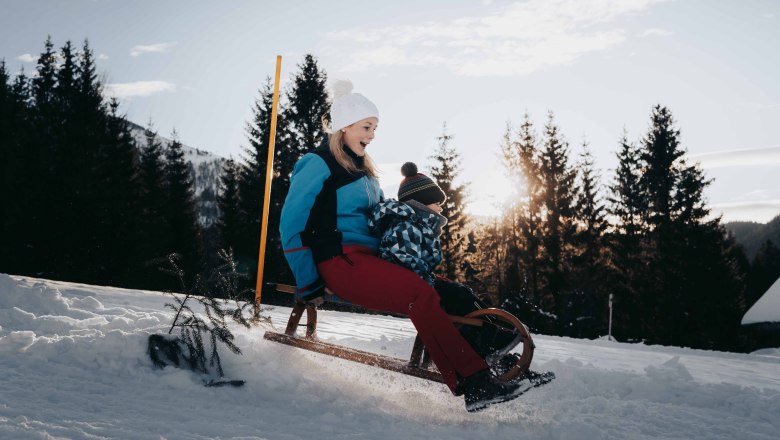 For super-fast panoramic tobogganists: The Viennese Alps in Lower Austria
Zauberberg is magical again! This time, because of the 3 km long adventure toboggan run, which you'll want to race down again and again. By the way: The magician Siebenstein and the dragon Feuerzahn are there to welcome small and big tobogganists even at night! "On your marks - get set - go!" as it says on the Rax panorama toboggan run in Prein. But beware: Don't let the beautiful view distract you! Our tip for young tobogganists: The 200m long Panhans toboggan meadow on the Semmering pass summit directly next to the children's lift. Here you can build great jumps and start gaining experience. In the evening the toboggan run is even lit up. We also have a special tip for the little mini tobogganists: The tobogganing and bobsleigh country in the family-owned ski resort St. Corona.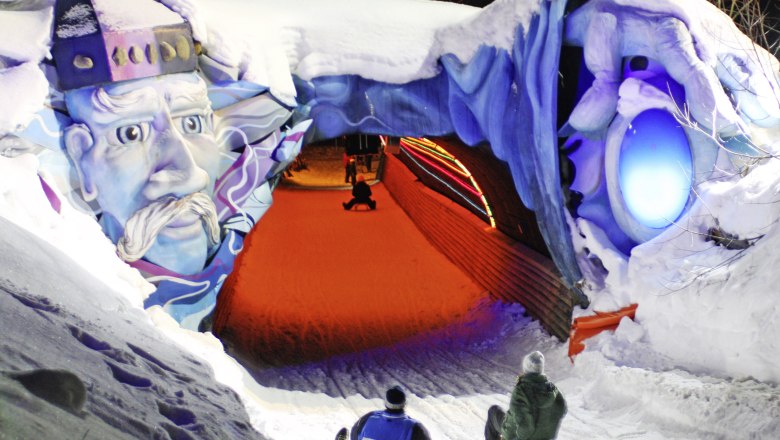 For comfortable toboggan runs: The refreshing Vienna Woods
First a snow-covered hiking tour from Gumpoldskirchen through the vineyards and a small section of forest to the Anninger shelter, before you quickly slide down to Mödling. There is a leisurely toboggan run (also suitable for children) in the vicinity of Vienna at Peilstein, including a stop at the summit. Behind "Bonka's Wirtshaus" in Oberkirchbach the whole family can glide - after a lunch break - relaxingly down the slope. The small ski lift next to the slope brings both small and big toboggan lovers back to the start.