Bucket list for winter
Whether skiers, cross-country skiers, winter hikers, tobogganers or lovers of leisure – winter in Lower Austria will enchant all visitors.
Walk through winter landscapes covered deep in snow, glide over well-prepared cross-country ski routes, conquer challenging slopes and summits on skis, stop by in the cabin to recover your strength: all of this is winter in Lower Austria. An experience for the senses and the best way to leave daily life behind.
When temperatures drop and the first snow envelops mountains, forests, fields and towns in a thick white blanket, Lower Austria may well be at its most beautiful. It's time to capture magic moments in the cold, clear winter air and glistening powdered snow.
We've put together the top 6 winter tips for you:
1. Be the first on the slopes
The early bird gets the worm: if you want the peaks to yourself, you'll have to get up quite early in the morning. You'll be rewarded with perfect slopes, hardly any other skiers and an unforgettable sunrise. So, "Guga hö" – as they say in the Mostviertel!
>> More on skiing here.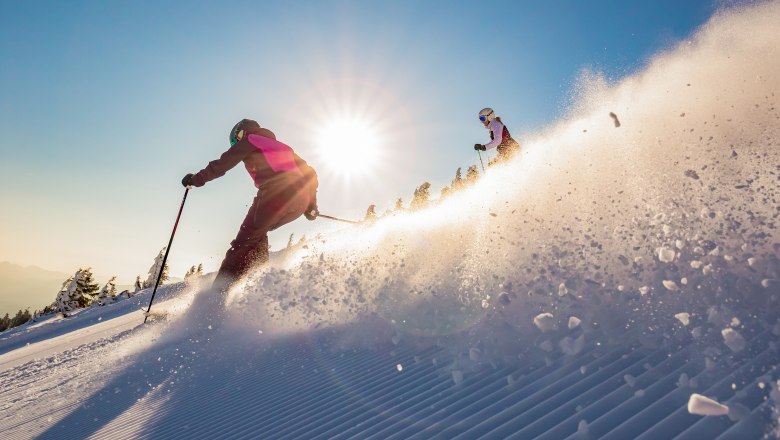 2. Get on your sled at night
The toboggan route experience at Semmering is lit up at night, providing ideal night-time tobogganing conditions. The three kilometre long track will impress you with its imposing light effects and fascinating design.
>> More tobogganing tips here.
3. Cross-country skiing with a view
It's a real pleasure to travel along the changing panorama of a cross-country ski trail in one go. And that's not just because of the best prepared, 60 kilometre-long tracks, but also, even more so, because of the impressive mountain panorama, which accompanies you as you opt for classic cross-country skiing, or skating.
4. Take a skiing tour
The guided ski tours of Peter Groß' skiing and mountaineering school in Puchberg am Schneeberg are legendary. If you climb up to enjoy the marvellous all-round view, you'll be rewarded with a top-class vertical descent (and an outstanding cabin kitchen).
>> More ski tour tips here.
5. Go for walks with the animals
Walks with llamas and alpacas, romantic horseback rides across the land, hilarious donkey adventures and stroking raccoons: the animals of Lower Austria always look forward to your visit – especially if you've got a bit of sugar in your pocket.
6. Trek through the countryside on snowshoes
Quiet endurance training: dating back over two thousand years, snowshoe walks have been discovered once again – as a fashionable sport for grown-ups and kids. Today, winter fans of all fitness levels indulge in fitness sports, in calming, crisp snow.